Ivan Bahelka, 29.12.2015 11:12
zobák
Zdravím Vás,

vedeli by ste mi poradiť s nasledovným problémom? Samcovi AG sa asi pred týždňom vytvoril na zobáku novotvar vo veľkosti približne zrnka prosa. Prikladám foto. Môže sa jednať o roztoče? Samec je normálne aktívny, spieva, žerie, trus má tiež normálnu farbu aj konzistenciu. Je to ročník 2013. 

S pozdravom,

Ivan Bahelka
Nitra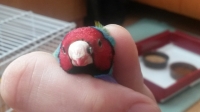 To insert a new contribution to be logged.
Milos Haska, 09.01.2016 00:44
Dobry vecer,
predne bych rekl ze na roztoce to tedy nevypada. A protoze si neumim vysvetlit jak jinak by mohl vznikdout takovy utvar, rekl bych ze nador. Ale prosim, berte to s rezervou. Jeste nikdy jsem nador na zobaku nevidel.
Je take mozne ze jen neni z fotografie patrne a zrejme vse podstatne. Je velmi slozite neco odvozovat z fotografie. Prosim jeste jednou, berte to pouze jako nejaky dohad, nahlas vyrcenou myslenku.
Urcite zatim nepodavejte zadne leky, ale nic nepokazite pokud utvar natrete tukem. Neni to sice lecba proti roztocum, ale paklize by se o ne skutecne jednalo, utvar po par dnech potirani sam odpadne a vy budete vedet ze je potreba prelecit antiparazitiky. Pokud ne, aspon vyloucite ze to roztoce nejsou. Pro natirani muzete pouzit maslo, olej i indulonu.
S pozdravem smidla.eu

To insert a new contribution to be logged.