Martin Sikula, 01.05.2013 00:06
Vonkajšia voliéra v mimochovnej sezóne
Dobrý deň,
na chov guld a zebier v chovnej sezóne používam klietky bedňového typu.

Na mimochovnú sezónu som zvolil vonkajšiu voliéru (foto prikladám). Veľkosť je 2,5m(d) x 1,2m(s) x 2m(v). Je z polovicky zavetrená plexisklom. Vo voliére je množstvo konárov, skúsil som dať aj fikus benjamina, no nie som si celkom istý, či to pri vtáčikoch prežije. Chovanci majú k dispozícii zásobník na potravu, vodu, íl, grit.

Zaujímali by ma Vaše skúsenosti s takýmto typom chovu, prípadne skúsenosti s niečím podobným. Vaše rady veľmi ocením.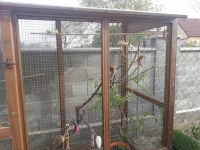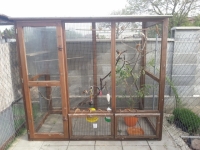 To insert a new contribution to be logged.
Milos Haska, 05.05.2013 20:06
Dobry den,
vlastni zksenost s venkovni volierou zatim bohuzel nemam. Jsou v planu postavit, ale az dokoncim dum.
Nicmene slunicko guldam hodne svedci. Navic ptaci pak vypadaji jednoduse uchvatne a tim spis v zeleni. Guldy nijak vyrazne nenici zelene vybaveni volier, ale pokud nemaji moznost mit zelene krmeni, rady si stipnou nejaky ten vyhonek.
Na co je vsak potreba si davat hodne pozor jsou nahle zmeny pocasi. Zvlaste v poslenich letech to je na dennim poradku. Jeden den je 30 a drudy den 15. Z tohoto duvodu mam ja v planu stavet voliery se zdenym zaletem. Vam bych doporucil vytvorit ve volierce nejaky kryty zalet. Ten pak vkusne maskovat treba popinavymi rostlinami aby to pekne vypadalo.
Mam v chovu ptaky z venkovnich volier kteri v nich byli odchovani. Jsou to linie od chovatelu kteri takto odchovavaji jiz nekolik roku.
S pozdravem Smidla
smidla@smidla.eu
http://smidla.eu

To insert a new contribution to be logged.