Gouldian finch, Chloebia gouldiae, Erythrura gouldiae, Gouldian finches, Diamant de Gould, Gouldamadine, Diamante di Gould, Diamantes de Gould, Amadyna wspaniała, Amadyna wspaniala, Gouldian genetics forecaster, Calcolatore genetico Diamante di Gould , Gouldamadine Genetische Voorspelling, Das genetisch Rechengäret der Gouldamadine, Genetyczny kalkulator Amadyna wspaniała, Genetikai számológép Gould-amandina, advertising, breeding, veterinary, photo gallery, genetics, mutatoins, forum.
"In the moment, when we decide to breed an animal, it is necessary to do everything so it lives in optimal living conditions, achieved not only with material equipment, but also with theoretical and empiric knowledge of the breeder, his empathy and love."
www.gouldianfinches.eu
Dear friends,


I welcome you on this website dedicated to the Gouldian Finches, birds that might be poetically called "flying gems". Gouldian Finches amazed many breeders, bird lovers and bird watchers all around the world. They have also amazed me, to such an extent, that I have decided to create this site for them and thus share the beauty and uniqueness of these exotic birds with everyone. I hope that the page, with its content and expertise catches the interest and brings inspiration to experienced breeders, provides advice and aid to beginning breeders, convinces those who hesitate whether to start a breed and also speaks to the general public.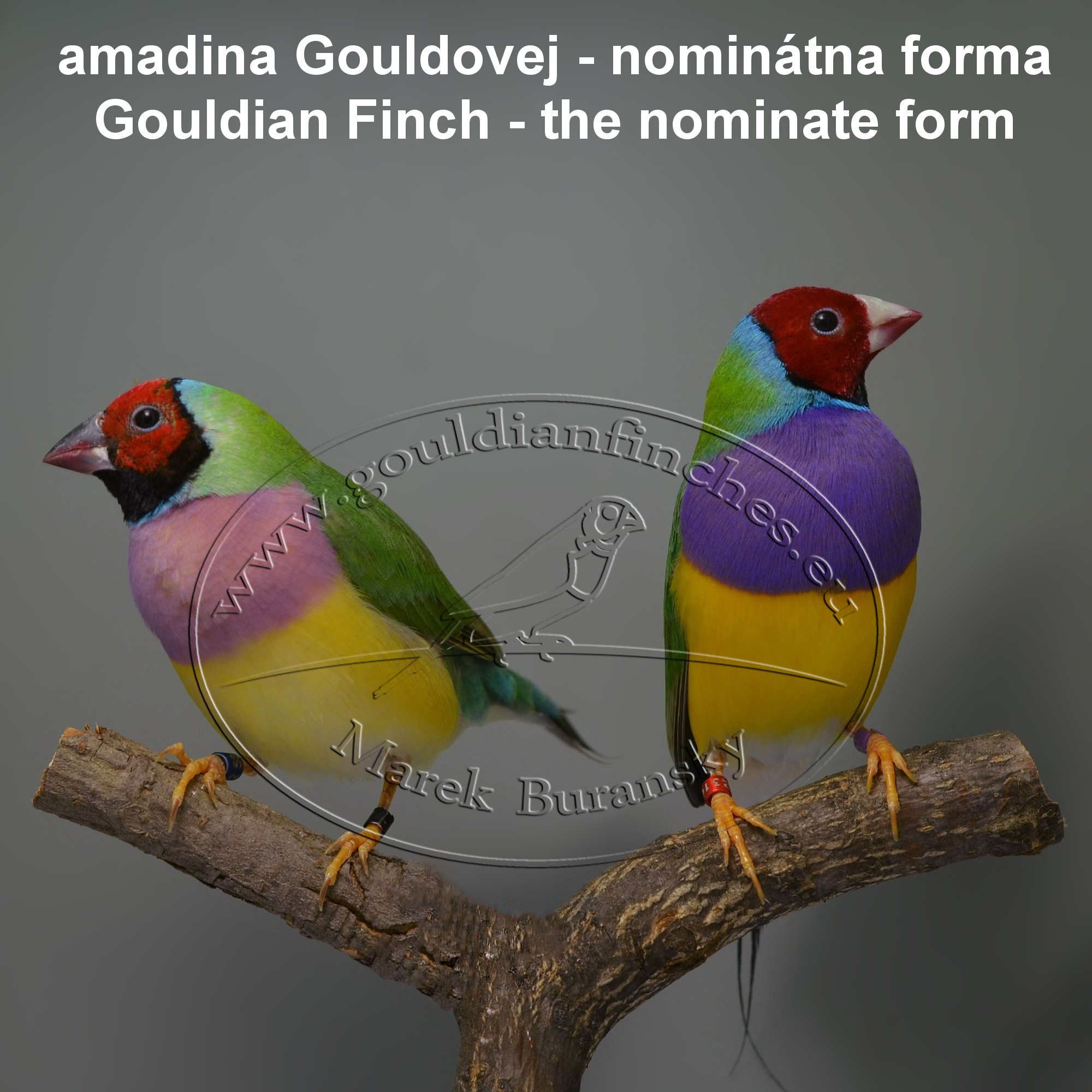 With knowledge of the Gouldian Finches (Erythrura gouldiae), two important aspects arise. On one hand, thousands of devout breeders enjoy keeping them all around the world, on the other there are the very low numbers of specimens living in the wild. In the past few years, the decline came to a halt, even a minor raise was recorded. Due to the low levels of population living in the wild and regulation of wildlife trade in Australia, breeding of the Gouldian Finches in captivity plays an important role. Even though it is not always valued, the breeding with its specifics aids biodiversity conservation by helping raise the numbers of an endangered species.


A monographic character of the site excludes information on different species of birds. Here we are only concerned by the life of Gouldian Finches in the wild, their breeding in captivity, genetics and breeding specific color mutations, veterinary issues and other topics. The Slovak version of the site is constantly being updated and more new information will be added in time. At the same time an English version of the site is being prepared.


This site is of a non-commercial, non-profit character, it focuses on spreading information and knowledge. The selection of information is of my own choosing, i.e. there are topics that based on my experience I assume are important, enriched by knowledge of a wide breeder community, veterinary studies and results of funds and foundations, concerning themselves with Gouldian Finches.


Information on techniques of Gouldian Finch breeding in captivity published on this site are certainly not the only correct ones. Here I offer a synthesis of my theoretical knowledge with my empiric experience. In the part "techniques of breeding" I present my own view on the issue of breeding in captivity, which means that in different breeding conditions different techniques might apply. In the current time several effective breeding methods have been proposed and tested, thanks to which a breeder with general knowledge about breeding this kind of birds may expect good results. 
The site contains an on-line genetic calculator, which is a joint project of Mr. Leoš Rapant, the designer and programmer, and myself – contributing the genetic part. The purpose of this electronic aid is to simplify the calculation of offspring of a selected mating pair, provided the user knows the nomenclature of the mutations he is trying to breed.


I would like to direct your attention to the website of a fund http://www.savethegouldian.org/ dedicated to ethology and the study of biotopes of this species in Australia. For the conservation of Gouldian Finch population in the wild and for acquiring further knowledge from their biotopes, the activities of this fund are priceless. You may support its cause by a donation.


At the same time I would like to thank Mr. Mike Fidler – general manager of the Save The Gouldian Fund – for his approval to publish information and photographs from the activities of this fund to preserve and study the Gouldian Finches – STGF.


I would like to express my gratitude to a world renowned veterinarian Dr. Rob Marshall for his approval to publish his knowledge of veterinary issues and behavioral studies. A visit to his website http://www.birdhealth.com.au/ will surely help you gain a better view of his contribution to exotic bird breeding. My thanks also goes to colleagues and friends, that aid in the construction of this site and who will answer your questions in the forum.


I believe that the information contained on this site will interest you and will help you achieve excellent results in your breeds. You are welcome on the discussion forum as well, where you may ask questions, discuss topics of interest and open new views. In the parts concerning veterinary issues and genetics your posts will be answered by professionals.

Marek Buranský